True Excellence has no shortcuts!
Effective Immediately, WADAX will take over my role in the USA and handle the US market directly. This is now confirmed. For any US based inquiries please forward your request directly to javier@wadax.com. Javier will make sure your inquiries are assigned and responded to.
I am very confident Wadax will continue to give the same high level of service to the dealer network that I have provided during my time as the US distributor.
American Sound will remain the exclusive distributor for Canada and will continue to work collectively with Wadax to continue the work we've been doing over the last couple years to grow the brand globally.
Sincerely,
Angie
▸Reference DAC
▸Atlantis Transport
▸Atlantis DAC
▸Atlantis Server
▸Atlantis Arcadia
▸Reference DAC
Atlantis REFERENCE DAC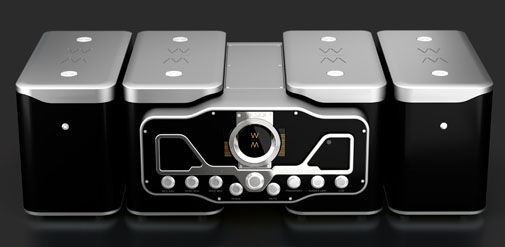 Everything about the Atlantis REFERENCE DAC is unique to this product: the clock circuitry; PSU topology and distributed regulation; the implementation of the musIC feed-forward error correction technology; the totally independent, dual-Mono DAC and analog circuitry; the fully modular construction, allowing for future upgrades or updates of key circuit blocks; the physical separation and independent housing of left and right channels, left and right channel power supplies; the mechanical vibration management incorporated in the chassis construction – and that barely scratches the surface of a product that contains 23 printed circuit boards, 10 independent, purpose-wound power transformers and over 5,500 discrete parts. 
"Atlantis Reference DAC is our matador in digital to analog musical conversion. Not only because we have touched almost theoretical measurements, but also due to the factorization of other aspects that were not considered before. I would cathegorize it as a holistic DAC. It will be our flagship for years to come, given it fully modular architecture" 

"Besides the crazy bench measurements we have achieved, more transcendent to me is the way it connects with the performance, the interpreter and the environment. Never before I could experience a full rendering of all axis in such a wide and involving way." – Javier Guadalajara CEO 
Over 30,000 man hours devoted by passionate engineers and scientists to develop the most accurate and musical DAC ever designed. 
Atlantis Reference DAC Numbers: 
– 23 individual printed circuit boards 
– More than 5500 discrete parts 
– Dual-differential musIC 3 128-bit-feed-forward error correction process 
– Fully balanced, dual mono design with complete physical and electrical separation of left and right channels 
– 10 purpose-wound, functionally specific power transformers 
– Digital circuitry time aligned to 100ps 
– 0.5uV of total rail noise (1Hz-100KHz): ultra sophisticated power supply with distributed regulation topology 
– 30 local regulation stages, 5 stages of DC regulation 
– User-adjustable gain and output impedance 
– Zepto Reference clock: doubled the master clock frequency with only 12fs total jitter 
Connectivity: 
Output Level: 1V / 2V / 4V 
Output impedance: 0 / 50 / 75 / 600 ohms 
Inputs: USB (32-384KHz, 16-24-32 bits, DSD64, DSD128, DSD256,MQA)
2xSPDIF RCA (32KHz-192KHz, 16-24 bits) 
2xSPDIF BNC (32KHz-192KHz, 16-24 bits) 
2xAES-EBU (32KHz-192KHz, 16-24 bits)Native Reference Wadax Link (native PCM, DSD), 3xAES-EBU, 1 RJ45 
Native Wadax Link (native PCM, DSD), 2xRJ45 
User interface: 5 inch capacitive touch full-colour display 800×480 
Power: 110/220V, switchable, max 200W 
Remote support and OTA upgrade: software upgradeable over the Internet 
▸Atlantis Transport
▸Atlantis DAC
▸Atlantis Server
▸Atlantis Arcadia