---
Enjoy the sophisticated silky listening feel that Shelter provides.
Shelter has been manufacturing high-end phono cartridges by traditional manufacturing technique since the company was established in 1986. All Shelter MC phono cartridges are hand-made at a workshop in Japan by adept craftsmen. Cartridges are all then inspected and quality assured by Yasuo Ozawa himself, the designer and founder of Shelter.
The Ultimate Line
Ultimate Line is Shelter's extreme MC phono cartridge series, the material structure renewed after almost a quarter of century by means of adopting an ultra-degree hardness dry-carbon fiber to its housing while succeeding the fundamental motor system design philosophy of Shelter.
Harmony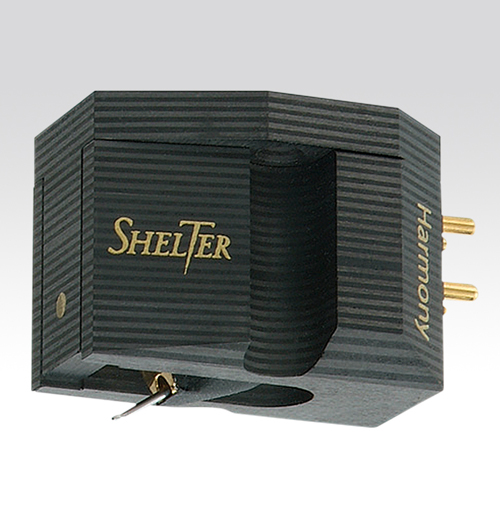 Shelter's flagship model, the Harmony, employs dry carbon fiber (CFRP) for the body shell. CFRP delivers a superb acoustic characteristic and is an ideal match with the newly designed motor assembly. This combination is capable of delivering a excellent musical reproduction even on records with less than optimal recordings.
Dry carbon, unlike wet carbon, is designed in layers and unique molding. Harmony, utilizing the CFRP, has a compression rating of 60-tons whereas the conventional process is only 24-tons. The benefit is that the resonant frequency of CFRP is outside of any audible frequency. In addition, it provides a high degree of internal damping along with superb isolation characteristics that protects the body from extraneous vibration and noise. Each of these design features ensure that the Harmony produces no coloration, and is whisper quiet and is extraordinarily sensitive to even the most demanding and subtle musical passages.
Harmony Specifications
- Output voltage: 0.5mV
- Stylus tip: 1.6 x 0.3mil line-contact
- Impedance: 15 ohm
- Weight: 8.5 gram
- Tracking force: 1.4 to 2.2 gram
---
Accord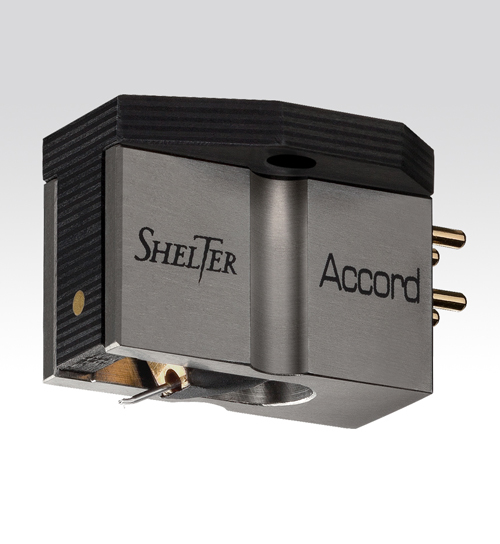 The Accord MC phono cartridge is a magnificent composite of intricately layered, ultra-dense, dry-carbon fiber and titanium. The dry-carbon fiber has a remarkable 60 ton compression ratio of hardness and is precision CNC machined. This forms the mounting base plate and attached to it is a CNC machined titanium housing creating a unique marriage of materials. The exceptionally hard aluminum alloy cantilever is the same one used in the acclaimed Harmony cartridge from Shelter. The ACCORD's exquisite character is accomplished by precisely integrating the stylus into the tip of the cantilever. This combination of carbon fiber and titanium materials, the incorporated an elliptical needle (0.3 x 0.7 mil) and precisely wound coil assembly is a testimony to this masterpiece of a cartridge.
Accord Specifications
- Output voltage: 0.5mV
- Stylus tip: 0.3 x 0.7mil elliptical solid diamond
- Impedance: 15 ohm
- Weight: 10.0 gram
- Tracking force: 1.4 to 2.2 gram